first & then by emma mills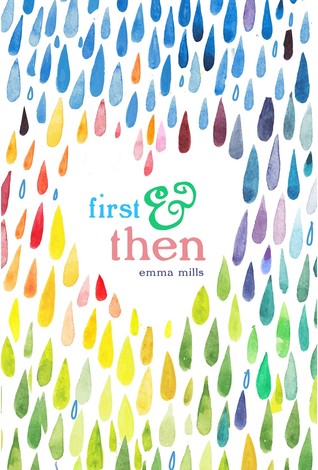 it's been a while since i've read anything, really, much less a light-hearted contemporary YA. and i'll admit i was pretty hesitant about reading first & then, simply because anything involving sports turns me off. i couldn't imagine how a cute, sweet love story and a story about football could mix. hell, i don't even know anything about football. i didn't think i would enjoy it at all, but i gave it a try,, mostly because the cover is cute and i like watercolors.
even though i read this without knowing a thing about football, i was still able to enjoy it. it wasn't as focused on high school football as i thought it would be. it just so happens that the main character, devon, is also a senior in high school, and she hasn't done anything involving college applications or a resume. she feels so ordinary and lost in the entire college process, which i was definitely able to relate to. her (obvious, after like three chapters) love interest is temple sterling high school's very own all-american star, broody ezra.
although this book was marketed as a YA romance, i came to like the family aspect of it more than the budding romance. devon's freshman cousin, foster, moves in with her family due to his own issues with his mother, and she has to learn to accept having someone new around, even if they are really annoying and weird.
the relationship between devon and ezra was really slow, but it was never frustrating. i never wanted to shout "WHY HAVEN'T THEY KISSED YET?" or anything, and that's definitely been the case with some other YA romances. it was sweet, and their friendship made it even nicer. although i liked first & then, i would still give it a final rating of 3/5, because while it was cute and i liked the relationships between devon and foster and devon and ezra, it didn't feel particularly memorable or incredible.